Held in Munich, Germany, Automatica 2016 is the leading trade fair for industrial automation and mechatronics. Wiley Process Engineer, Heath Barker, has a passion for robotics and automation is attending the event. We love sharing knowledge from these events with our network to help us all reach peak performance and ensure our global food security into the future.
"Today I focused on collaborative robotics and their food industry applications. This included man to robot, robot to robot and also robot to machine collaboration. It was another great day that has left my brain buzzing with excitement about the future of food in South East Asia." said Heath.
Heath began the day discussing the future of the food industry with Alan Spreckley of ABB. Alan is the Global Industry Segment Manager of food and beverage robotics in the UK. They discussed impacts of a population of 9 billion in 2050. Alan saw the need for healthy, hygienically prepared, customised, traceable ready meals as the greatest growth areas with two thirds of the population expected to be demanding this quality in the future. This means we need to find efficient ways of preparing and packaging these meals to meet demand.
This led to discussion on the emergence of collaborative robots (cage free). The major benefits of these technologies are not necessarily in the human to robot collaboration, but more in the robot to machine collaboration space (with human interaction when there is a situation to be resolved). An example could be a ready meal that traditionally had a machine transferring rice into one tray compartment, vegetables into another and a human placing a fish cut at a particular angle on top of the vegetables. By having a robot handle the fish placement instead, strict quality assurance can be performed to ensure that the fish is the right size, weight, colour and is positioned perfectly, down to the millimeter.
A cage free robot requires no more room than a human. The robot can alarm a production supervisor to inaccuracies in the fish position or size while still maintaining production rates. This keeps quality high and reduces waste and giveaway.
Discussion then turned to the emergence of Industry 4.0 and smart factories. Alan shared about their Condition Monitoring device that is simply mounted to the motors in your factory and will let you know when it is time for a service.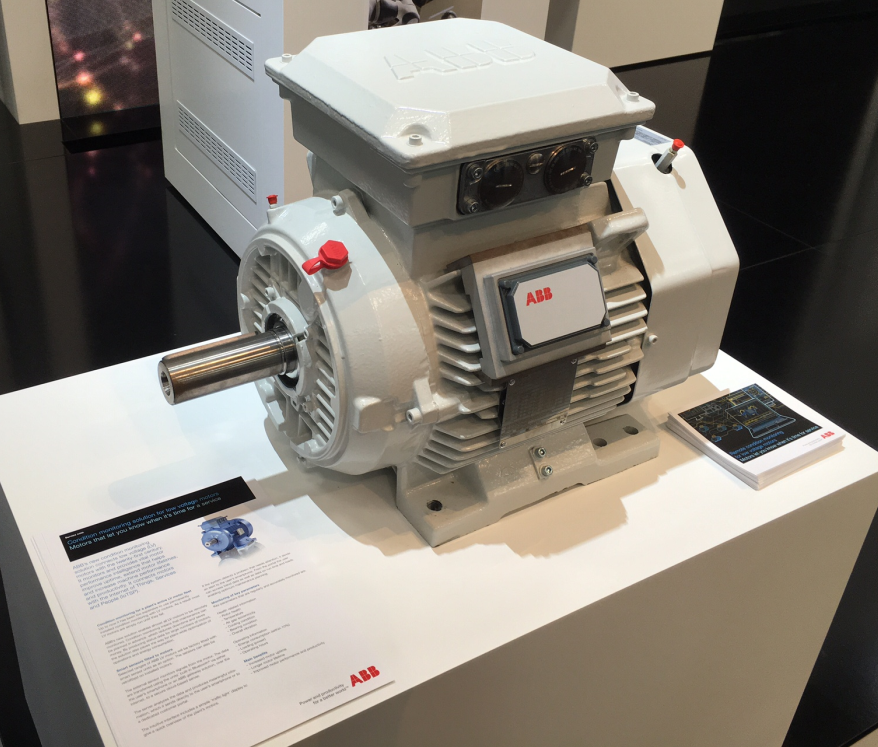 These data log temperature, vibration, rotor condition, cooling condition, energy consumption and run-time. The devices are about the size of the palm of my hand and communicate via Bluetooth to maintenance systems which can be interrogated by service technicians through a mobile app. The results are reduced maintenance time (equaling increased up-time), increased motor performance and motor lifetime. They will be available in 2017.
Heath went on to describe his morning "I spent some time with Bosch's APAS assistant, another collaborative robot. The interesting technology they have applied is a highly sensitive sensor skin that surrounds the robot. This skin recognises objects and stops well before contacting them.
This skin is not particularly suitable for the food industry because it cannot be removed for cleaning. However, I was informed by a Bosch representative that they are actively working on over skins that can be swapped out for hygienic environments. Perhaps in a year we will see this technology available."
Bosch had some interesting workstation technology where operator performed tasks were projected onto the work table with clear instructions of the operator's next action.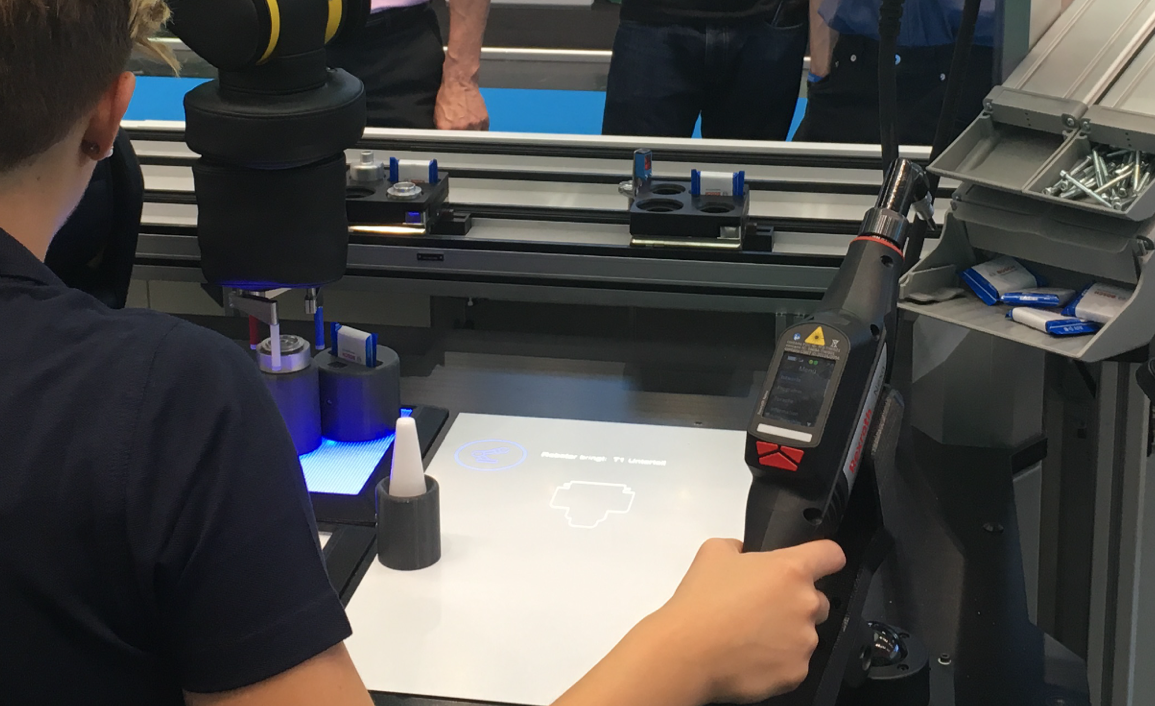 This simple solution could be easily adopted by the food industry thanks to the hygienic design. It could also be a very good way for robots to visually communicate collaborative tasks to humans.
Heath's final share was from a company called AREUS. "This company has been working on 600V DC (yes DC) drives for robotics harnessing regenerative braking energy. The achievable energy savings are in the order of 15-20% and work best with two robots acting together because as one brakes, this energy can help drive the other.
This technology is being trialed in a car manufacturing company now and is expected to be available in 5-10 years and will be very popular for European countries where electricity prices are so high.
I ended my day with a quick walk through the halls of InterSolar and EES Europe (the solar and battery technology trade shows). While only half the size of Automatica, there were certainly some interesting finds there and big names I will look at more closely and share about soon so stay tuned."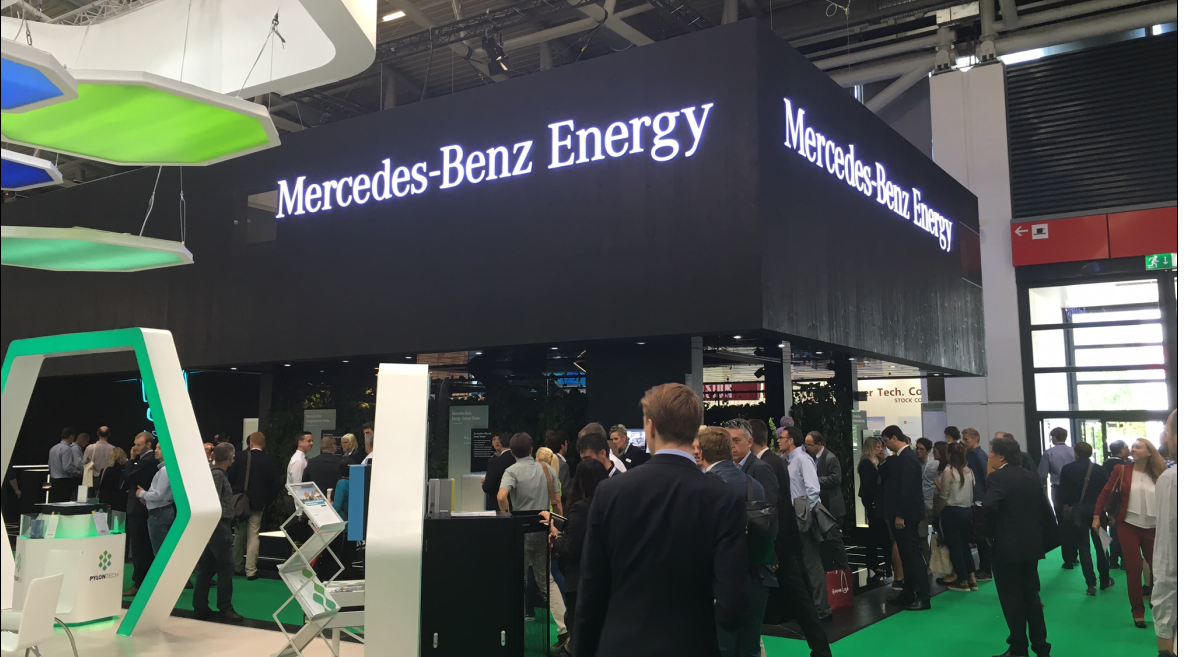 To discuss your robotics and automation needs further, please contact Heath or Wiley.